Spotlight Exhibition: Then and Now
September 4 - October 19, 2018
Closing Reception: October 12, 4-9 pm
Facebook Event
The Spotlight Exhibition: Then and Now features Wabash Arts Corridor alumni artists Andrea Dunn '16, Sam Kirk '04, and JJ McLuckie '17. The exhibition highlights the murals that create a vibrant campus landscape as well as new works by the artists.



Andrea Dunn, Advertising Art Direction, '16
andreadunn.com

Andrea Dunn is a recent Columbia graduate who is now working as an art director/designer at a creative agency in Chicago. She always had an interest in capturing light through different mediums. Most recently, she's been experimenting with creating stained glass pieces. She sells her work through Stem & Steel Studio.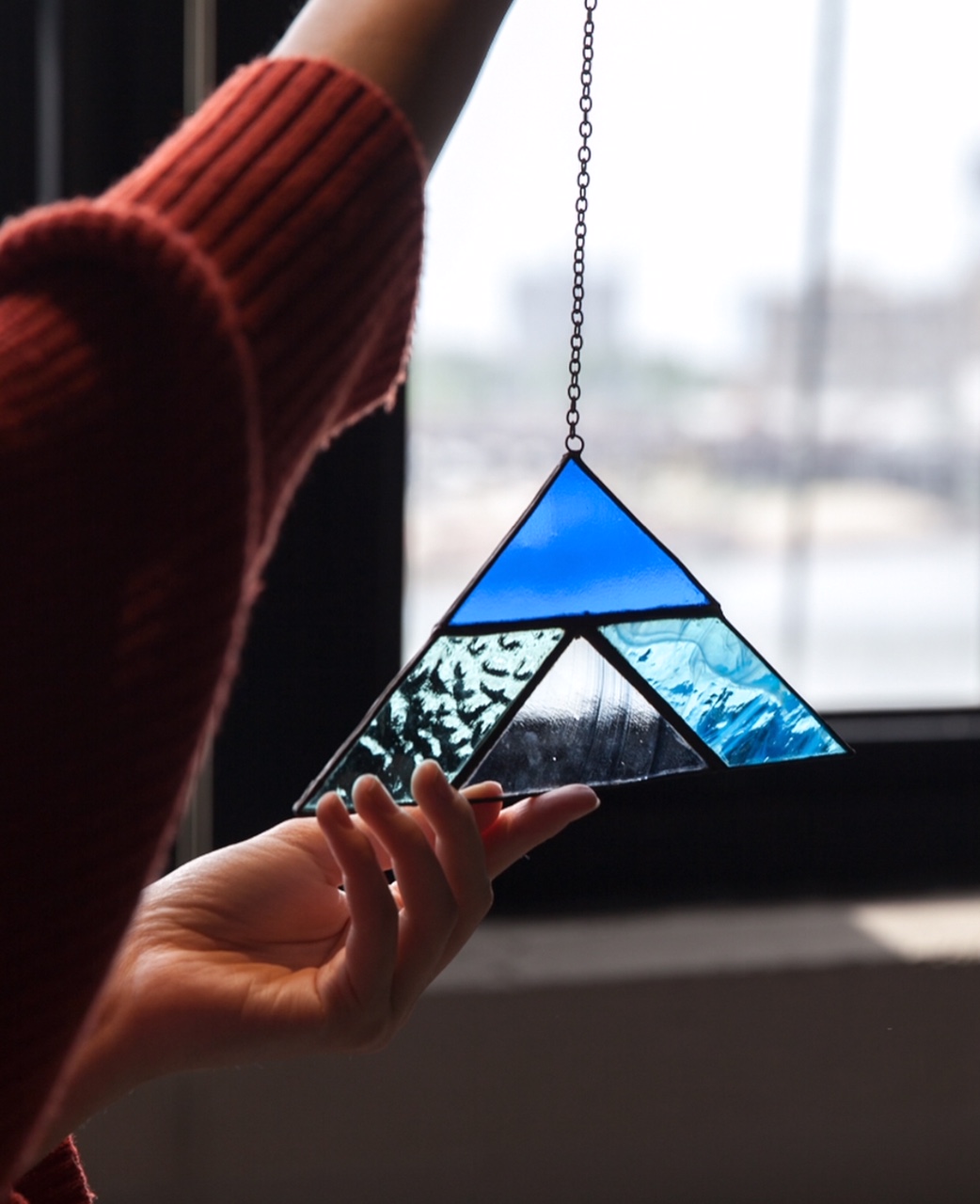 Suncatcher by Andrea Dunn
Click here, for works available for purchase from Andrea Dunn.


Sam Kirk, Marketing Communication, '04
iamsamkirk.com

Sam Kirk creates artwork to celebrate people and to inspire pride and recognition for underrepresented communities. Her work explores culture, identity, and the politics that have formed society for generations.

Born and raised on the south side of Chicago, working class communities continue to be Kirk's key ingredient of inspiration. Partially autobiographical, her vibrant color palette and intricate line-work highlights cultural communities via multi-toned figures and familiar buildings and elements.

Most recently, she was invited the City of Casablanca in Morocco to complete a 5 story mural in their Annual CasaMouja Street Art Festival.  Kirk is the first and only woman to participate in CasaMouja, which has added dozens of murals to the city in the past 3 years.

She intentionally creates public work that sparks dialogue around topics on equality, visibility for women of color, and the LGBTQ community.

Sam has exhibited in galleries and museums throughout the United States, painted murals nationally and internationally, works with private and commercial clients and makes custom artworks for nonprofit organizations in Chicago and New York.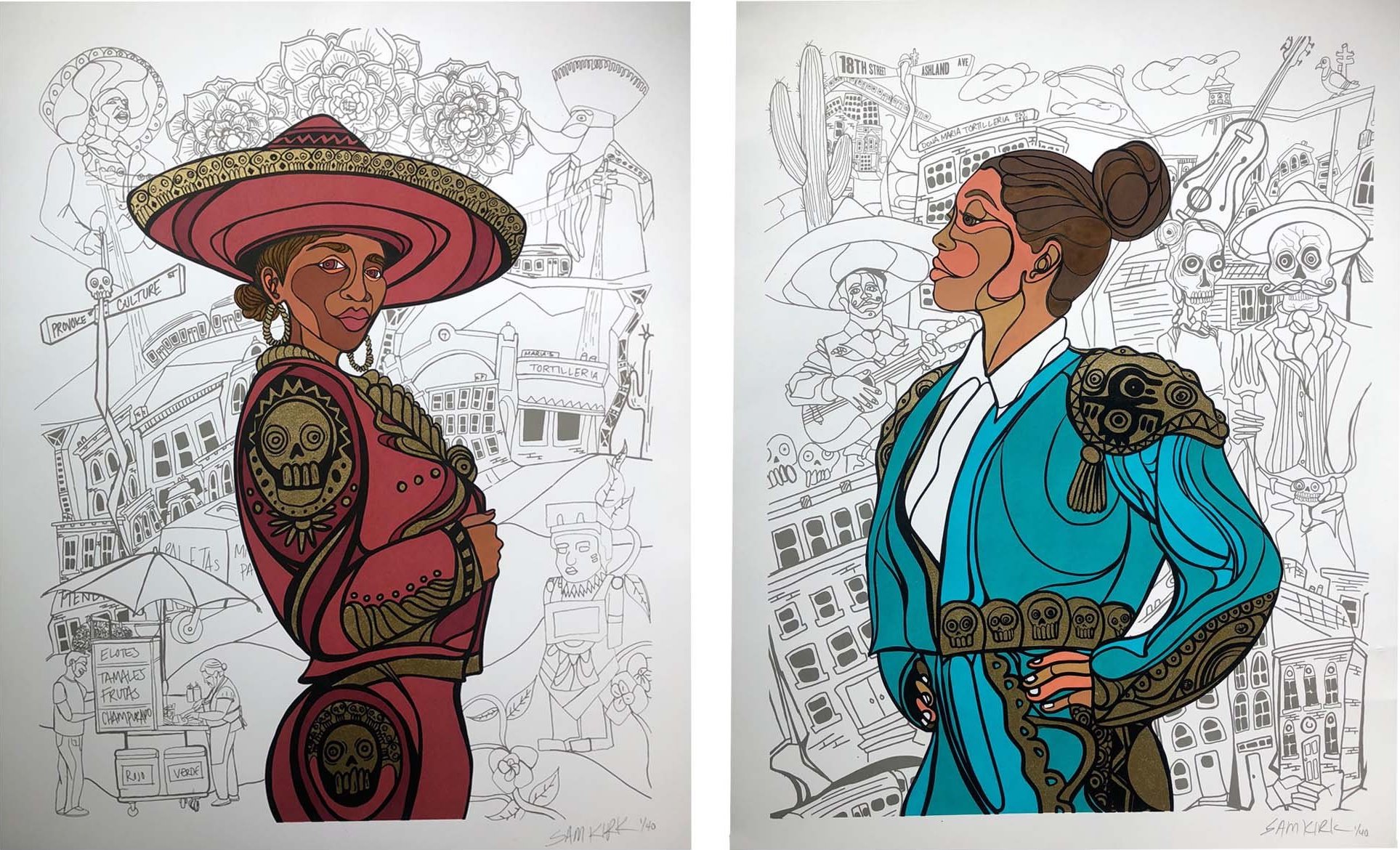 Flor de Toloache and La Diosa de Oro by Sam Kirk
Click here, for works available for purchase from Sam Kirk.


JJ McLuckie, Illustration, '17
jjmcluckie.com

JJ McLuckie is a Chicago-based illustrator, cartoonist, muralist, and handpoke tattoo artist. They primarily self-publish surreal/formalist comics based around under-appreciated aspects of the world, gender/sexuality, mental health, and stream of consciousness writing. Each has a high amount of focus dedicated to the structure and keeping it specific but open ended enough to instigate personal thought more-so than thought about a specific narrative in the book. This attention to structure leads to doing gig posters and paintings with the same mindset that some would describe as psychedelic due to the experimentation in color, forms, and the relationships between objects and communicating information.


Passing by JJ McLuckie
Click here, for works available for purchase from JJ McLuckie.