Holiday Market Featured Artist
Friday, December 13th | 11am - 7pm
What work will you be selling at ShopColumbia's 10th Annual Holiday Market?
I'm grateful to be selling the print edition of my 38-poem anthology titled Base Thoughts at the Holiday Market. I wrote these poems in the first three months after I graduated from Columbia, and they are a potent snapshot for me of my mind was when it was uncoupled from the structure of school.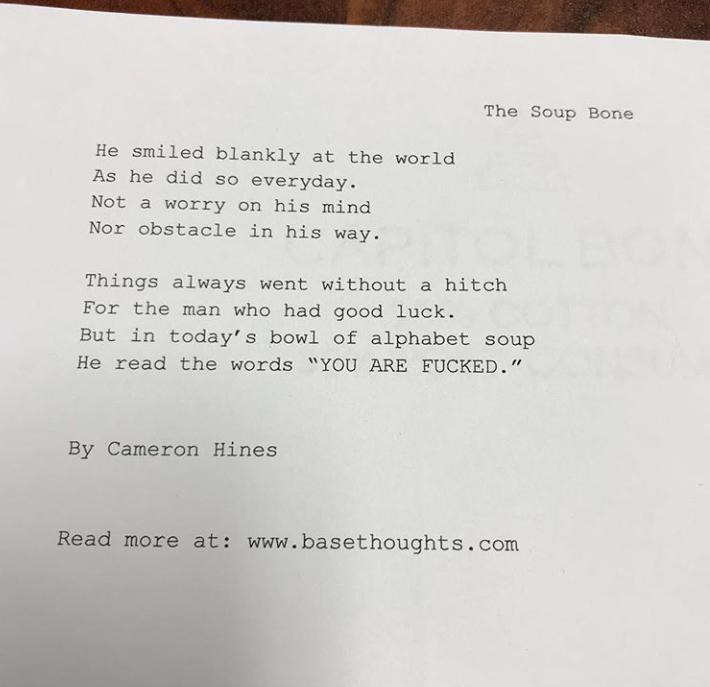 From "Base Thoughts" by Cameron Hines - $10.00, available for purchase from ShopColumbia.


What are you most looking forward to during the holidays? Do you have any favorite holiday traditions? 
I have two traditions that are very important to me. The first is that I watch "It's a Wonderful Life" and cry like a madman. I love that film so much. The second is that I go to New Haven, Connecticut for pizza with my parents and siblings. I grew up an hour outside New Haven, and it is the best place to get pizza. This is not open to debate.


Give us an update about recent projects/artistic life events; what's next for you?
I spent the autumn of 2018 traveling and working in Paris and the experience was incredibly affirming and enriching for me. I wrote poems for people on the street, wrote poems for myself, started a feature film screenplay, and worked in the world-famous Shakespeare & Company Bookstore. Since arriving back in Chicago in early November, I have continued to work on my feature film script and intend to direct it in 2020. I write and read like a fiend every day and constantly apply to writing and film gigs. I've never felt such a strong surge of creative energy and desire in my life. I'm also about to test for my blue belt in aikido. 

ShopColumbia's 10th Annual Holiday Market runs November 29 - December 20
Events and promotions updated daily on our

Facebook Page