MEET THE ARTIST

Kelly Boner
MAM Business and Entrepreneurship, 2019

What work do you currently have at ShopColumbia?
I have a clothing line that I designed in collaboration with Print All Over Me over the course of 2018. It includes a jumpsuit, a silk dress, a shift dress, a crop top, a pair of sweatpants, and silk scarves. There are a range of sizes in stock at the Shop but shoppers can get in touch with me for sizes from XXS to 4XL.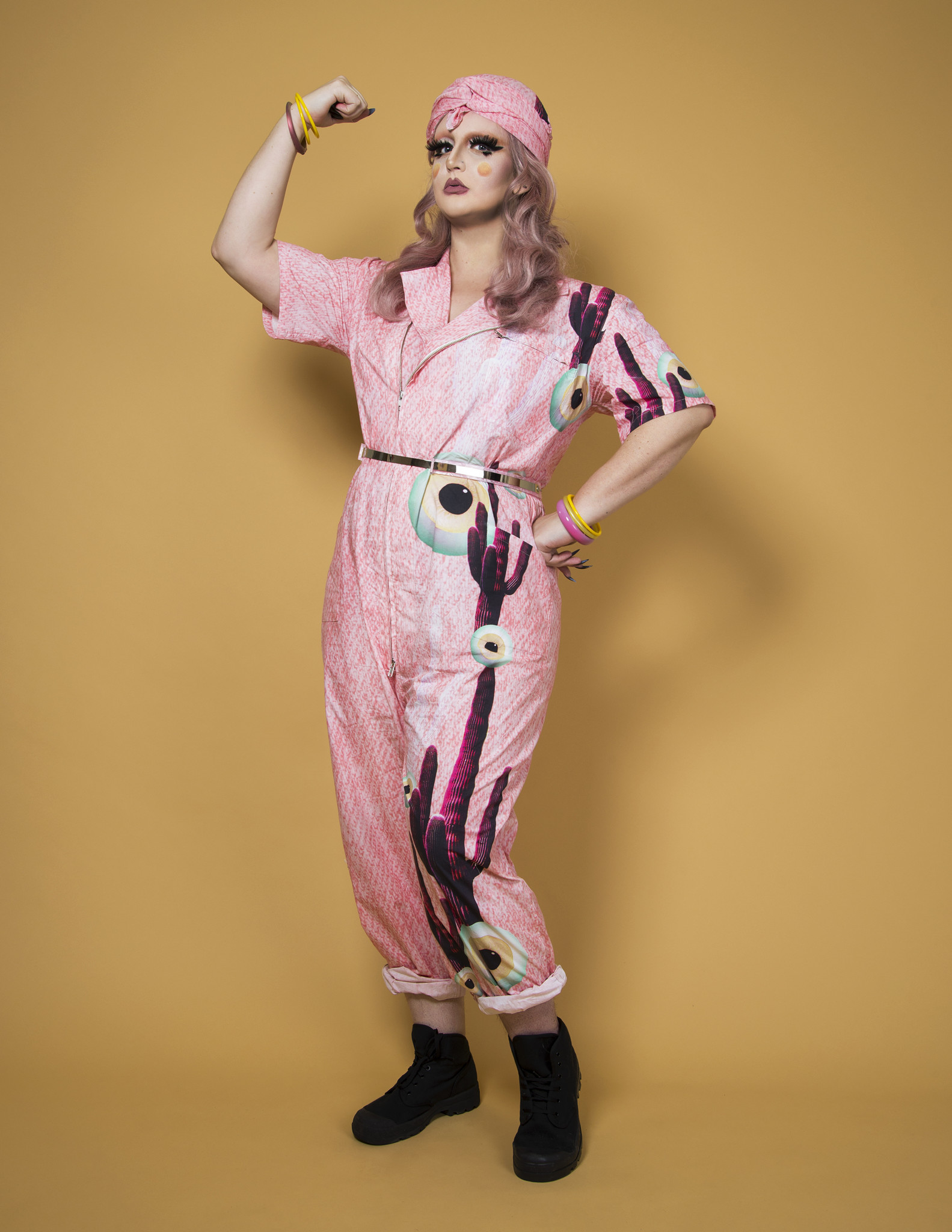 Cacti Cruise Silk Scarf ($50) and Cactus Cornucopia Jumpsuit ($180)

What inspired you to create this series of work?
For this collection, I wanted to experiment with my long running belief that beauty is transcendentally macabre, and in turn that the macabre is beautiful. I toyed with this concept by pairing bones, fossils, and eyeballs with jewel tones and items we typically associate with beauty: pearls, flowers, and gems. Given that this is an autumn line, I used a warm, rich color palette that demonstrated how exuberant colors can coalesce beautifully with fall silhouettes.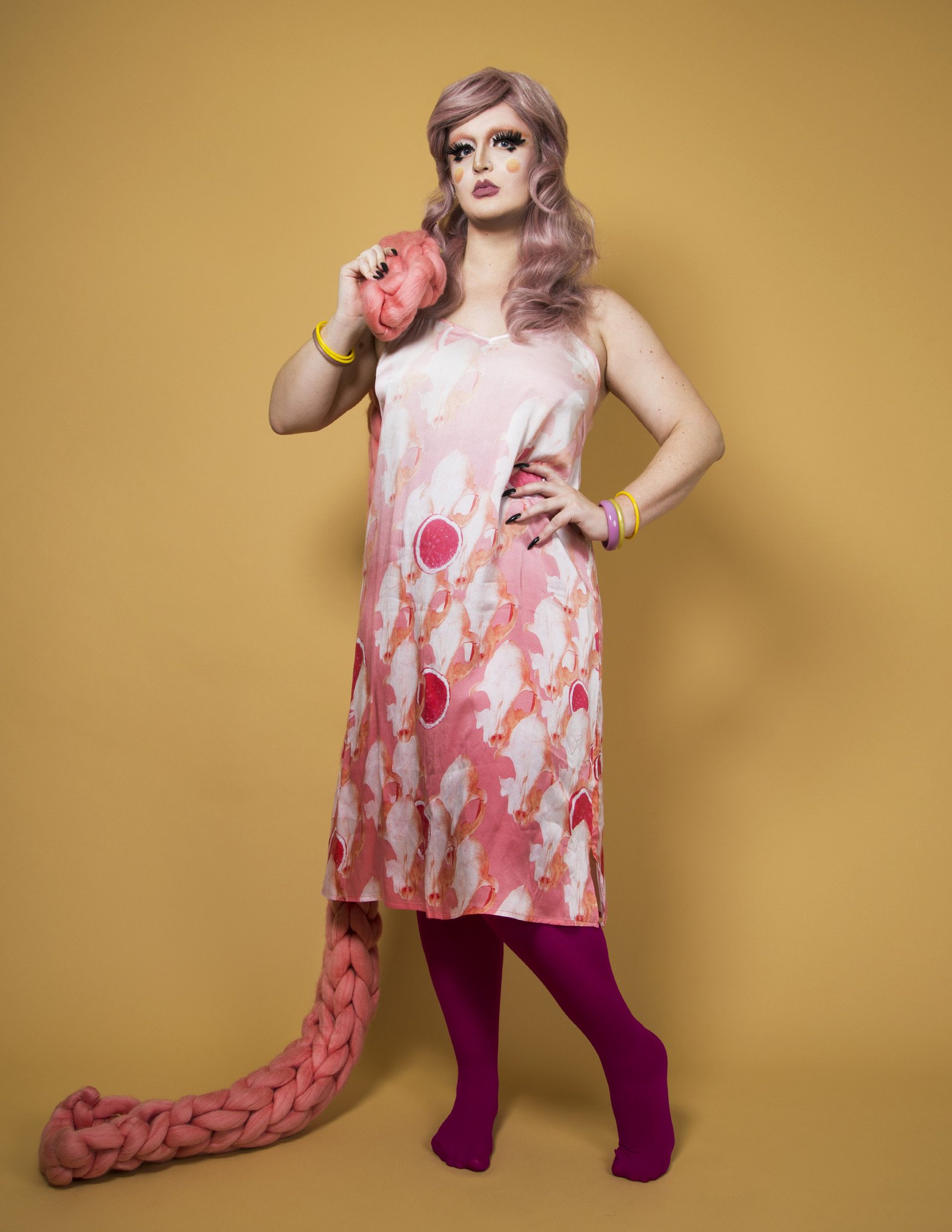 Cat Catastrophe Silk Slip Dress ($115)

In what ways do you think you have benefited from being a ShopColumbia artist?
I'm a big believer in the fact that you have to visualize it in order to achieve it; when I was younger I wanted to work in fashion design but I never thought I would put my artwork on clothing once I started studying visual art, and I definitely did not think I'd have a line of clothing for sale anywhere. Having the opportunity to see my work in the retail space was thrilling, and opened my mind to possibilities of future consignments and collaborations--maybe even in places outside of Chicago. I thank ShopColumbia for giving me the experience of the consignment process but also creating that first step toward one element of my artistic practice.


Scarab Beetle Bonanza Crop Top ($45) and Bats In The Belfrey Sweatpants ($80)

Give us an update about recent projects/artistic life events; what's next for you?
I just graduated from Columbia with my Master of Arts Management from Business and Entrepreneurship, although I don't have a next step locked in yet. I'm currently working a couple of freelance design and arts administration gigs while applying for creative art direction marketing projects and work. I'd also like to remount my master's thesis, Fulfilled Fantasies, in an off campus space so I'm applying to grants for that as well.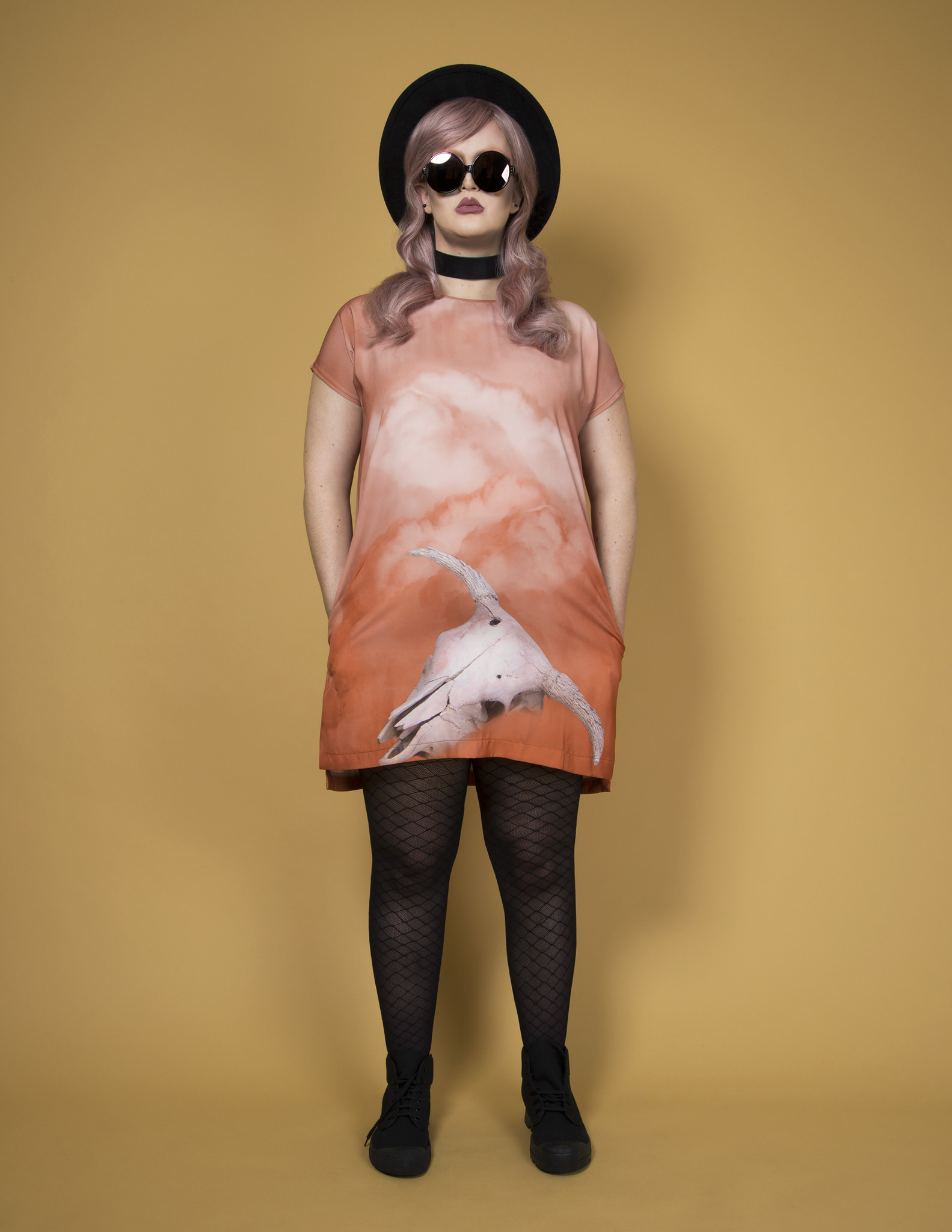 Cattle In The Clouds Shift Dress ($90)



ARTIST BIO
Kelly Boner (born Kelly Schmader) is a visual and performance artist residing in Chicago, IL.

Boner performs and creates as an AFAB (assigned female at birth) drag queen. Her rich history with Chicago drag began in 2013; since joining the community, she was executive producer of Lipstick City, a short fashion film starring season 9 Rupaul's Drag Race contestant Shea Couleé, released in 2016. She has worked as producer, assistant, graphic designer, and creative director for countless photoshoots, shows, and short films. (Hire her to be a creative director for your project or to create set pieces for your own work.)

Boner has performed in Nightgowns, the acclaimed show hosted by Drag Race Season 9 winner Sasha Velour, and made her international debut at Drag-Súgur in Reyjakvik, Iceland in June 2018. Her collage work is featured in Velour's magazine Velour: the Drag Magazine, issue 3, also released as a bound book in 2018. Her long-term drag goals include being photographed by every noted drag photographer in the world, which started with her collaborative portraits with Adam Ouahmane, featured in the looks section of this site. She maintains a number of creative partnerships in order to execute creative personal and professional projects in the marketing and design spheres.

In addition to her work in Chicago drag, Boner studied studio art at Oberlin College in Ohio and recently completed her Master of Arts Management at Columbia College Chicago. Her 2-dimensional work includes paper and digital/photoshop collage. Inspired by photographer Laurie Simmons, fashion illustrator Antonio Lopez, and author Francesca Lia Block, she uses collage to explore the American pop cultural landscape. She is especially interested in the way the internet and the manipulation of digital photography can be used as a new art medium; one that expresses the collective subconscious internet users share through repeated imagery, memes, and Google image search. Her visual vocabulary includes pink, the desert, lizards, bones, skeletons, eyeballs, the moon, fruit, and the geometric. She strives for her pieces to evoke the divinely surreal.