In Memoriam: LaVita Ru
ShopColumbia and Columbia College Chicago Alumni '00

It is with sadness that we announce the passing of ShopColumbia and Columbia College Chicago Alumni LaVita Russell (LaVita Ru) '00. LaVita passed in the aftermath of Hurricane Harvey on September 12, 2017 in Houston, TX.

LaVita began selling her wood-burned jewelry under her name LaVita Ru, her brand The Intuitive Woodshop, and her divination decks The Little Red One Divination Deck, at ShopColumbia in October 2015 as one of our Alumni Artists.

LaVita Ru was a joy to work with; always enthusiastically checking to see how her work was doing and sending us her newest creations to display and sell at ShopColumbia. She is greatly missed.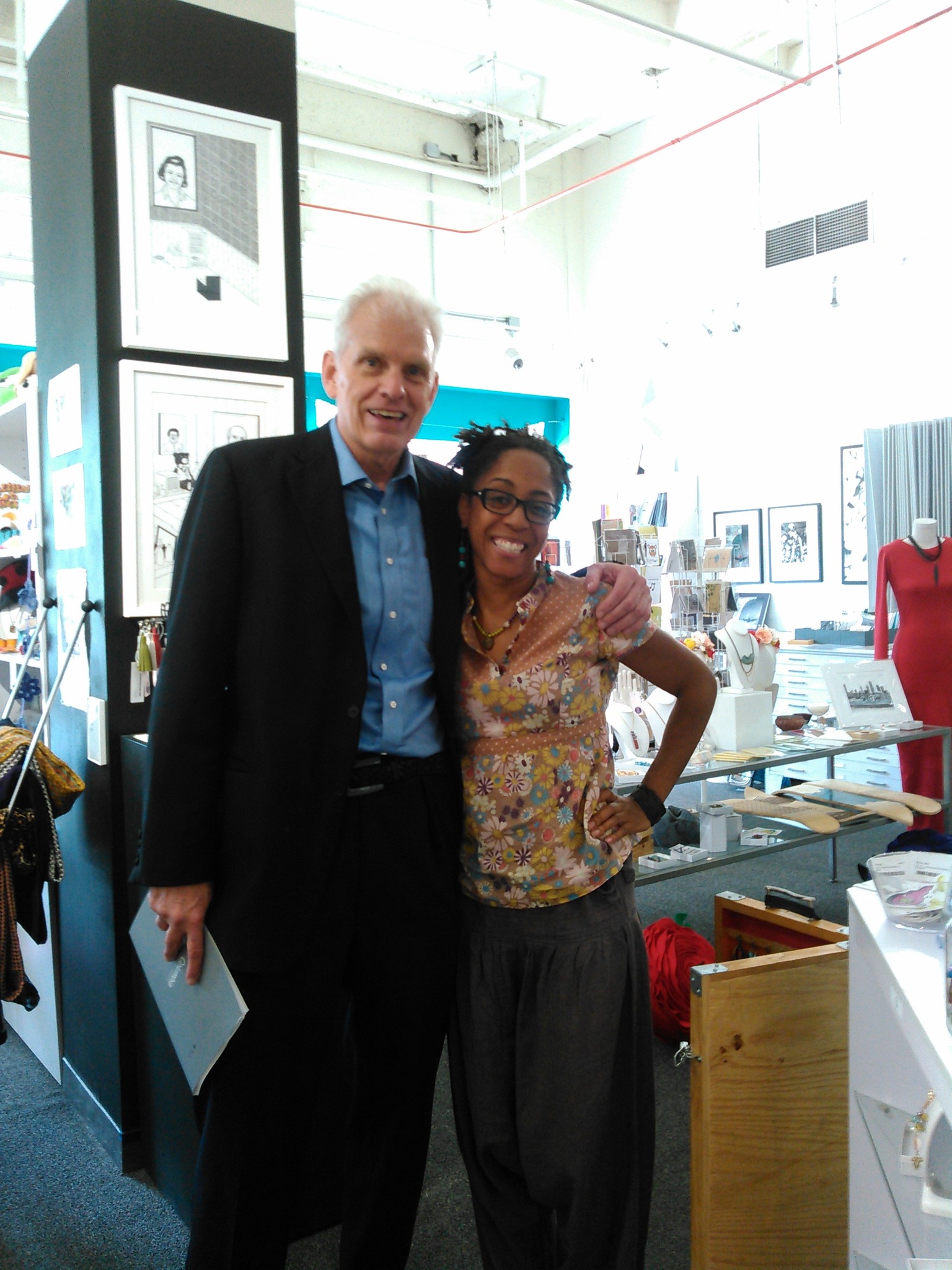 Mark Kelly, former Vice President of Student Success, and LaVita Ru at ShopColumbia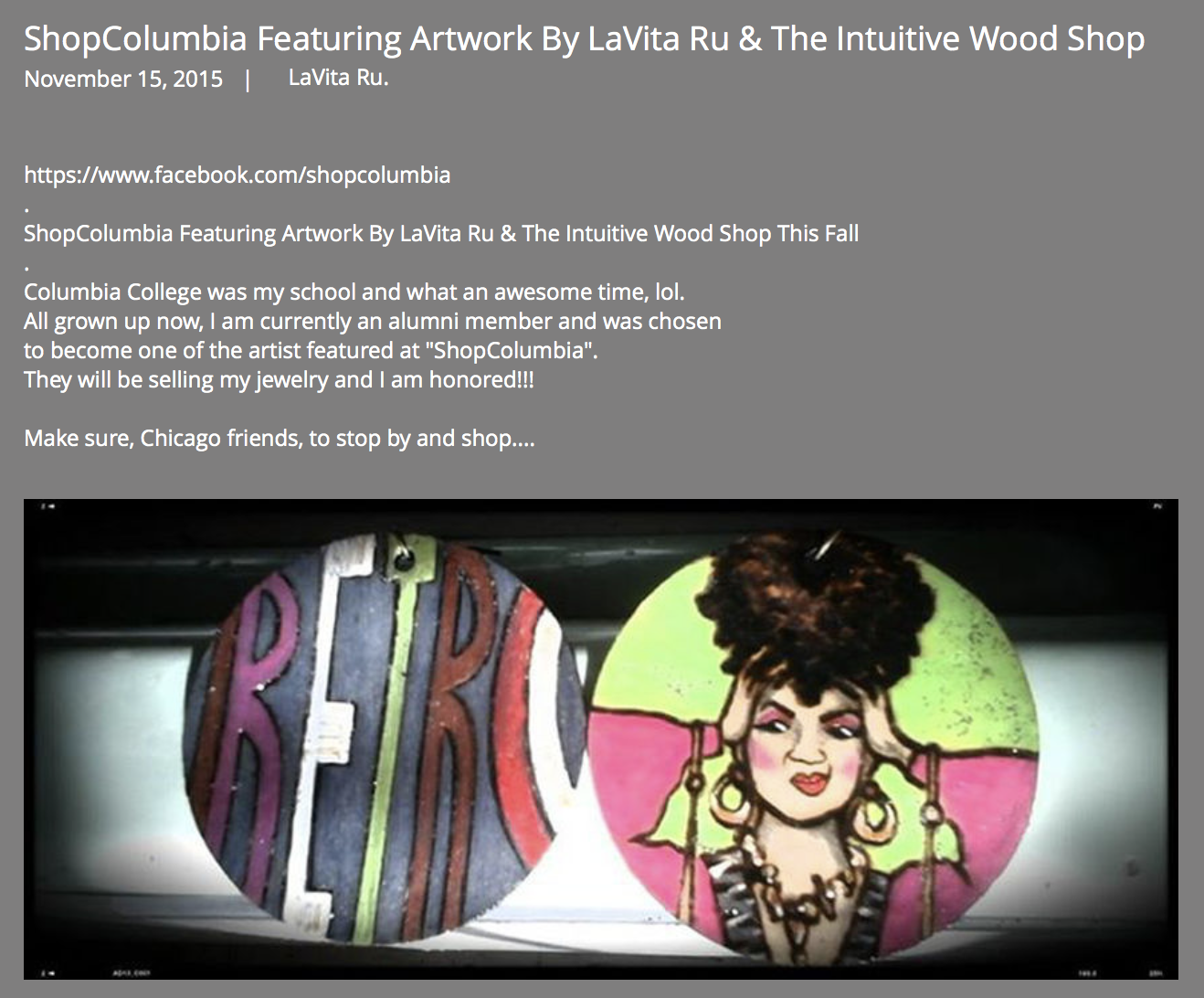 Excerpt from The World Of LaVita Ru Blog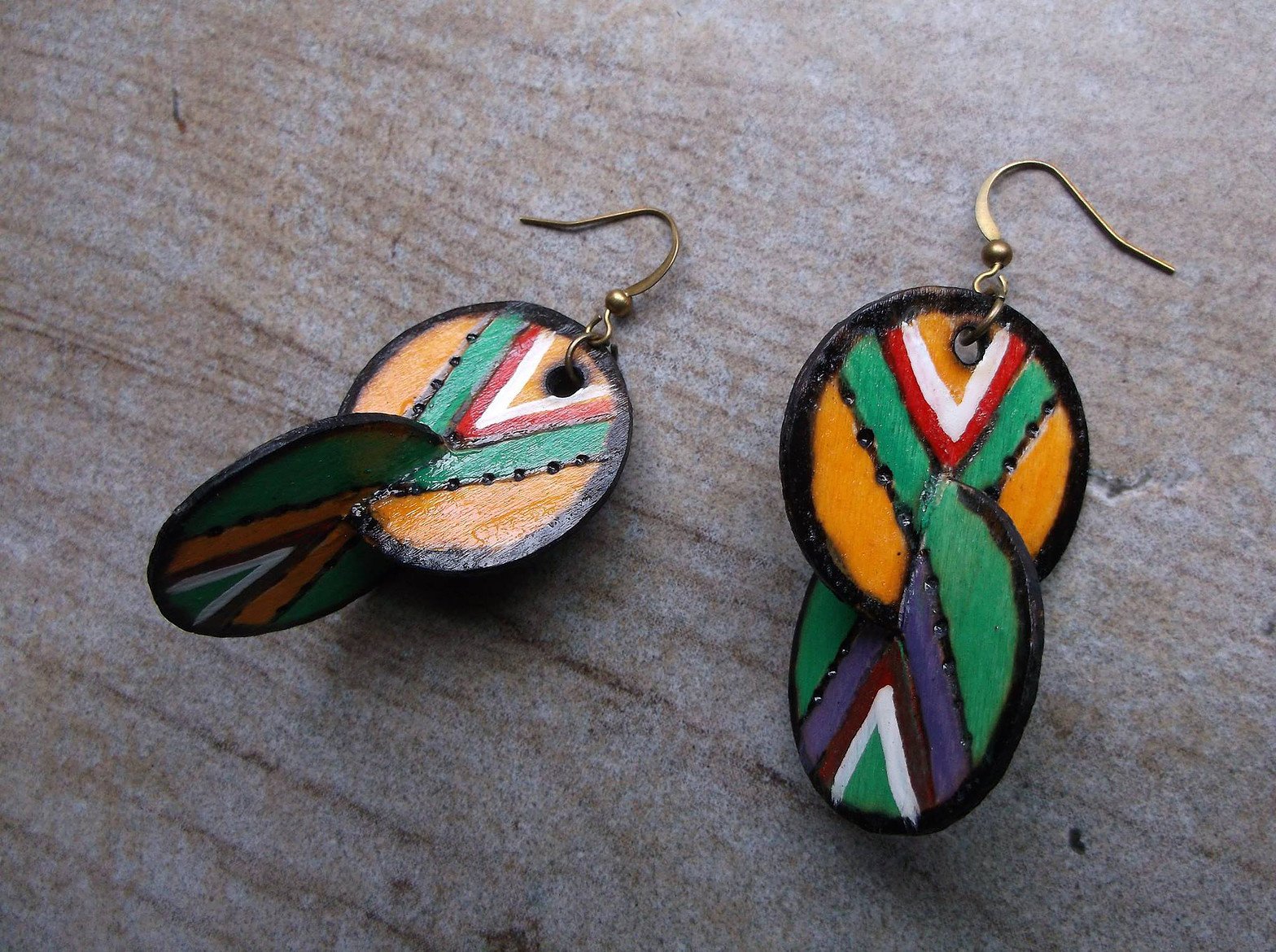 "Ashanti: Infinity 8 Collection" (wood-burned, hand-painted dangles)



"Red Locks Art & Poetry Dangles" (4 inch wood-burned, hand-painted, and written by LaVita Ru)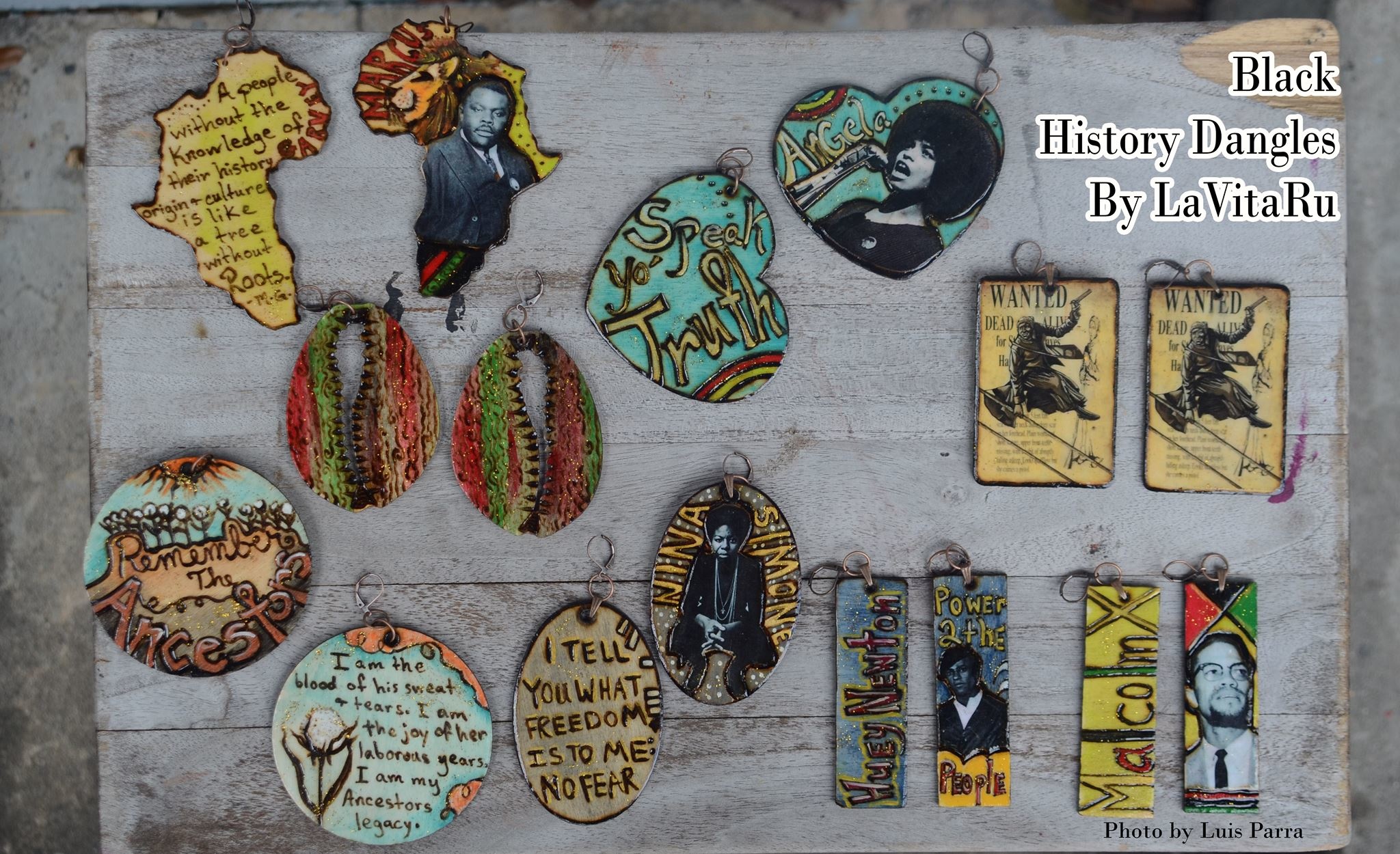 Jewelry collection by LaVita Ru created in honor of Black History Month




The Little Red One Divination Deck promotional video by LaVita Ru

Osayin Divination Set by LaVita Ru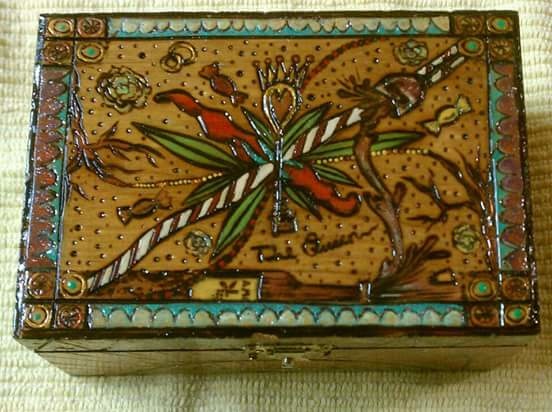 Osun Esu Amber Keepsake Box by LaVita Ru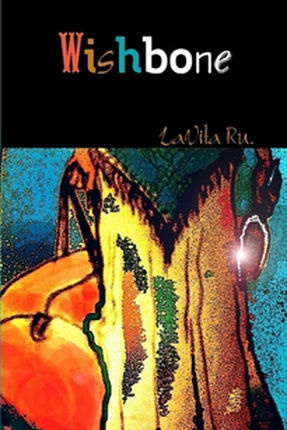 Wishbone by LaVita Ru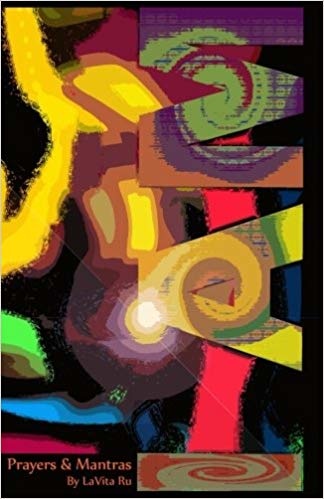 The "I Am" Prayers & Mantras by LaVita Ru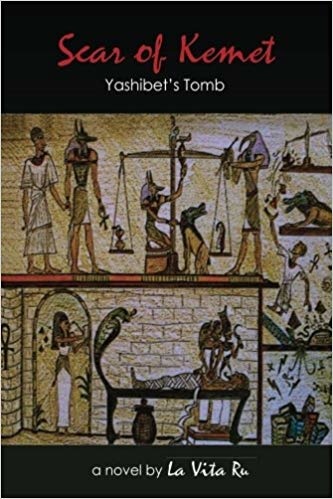 Scar of Kemet: Yashibet's Tomb by LaVita Ru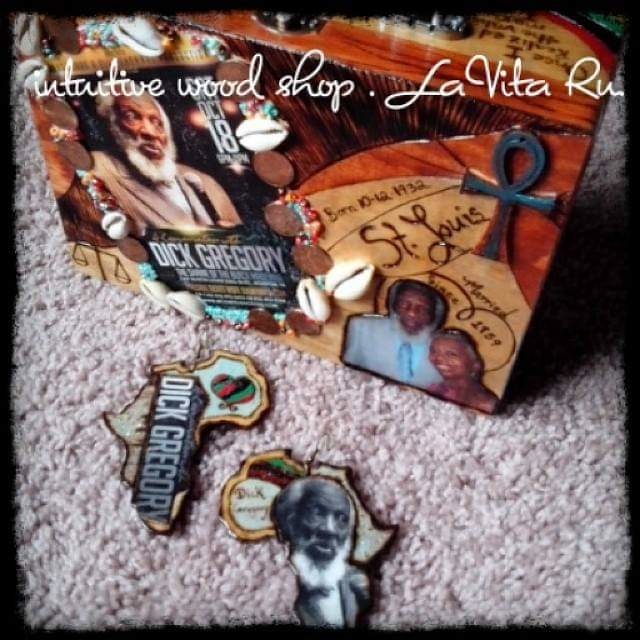 Custom Gift for Dick Gregory by LaVita Ru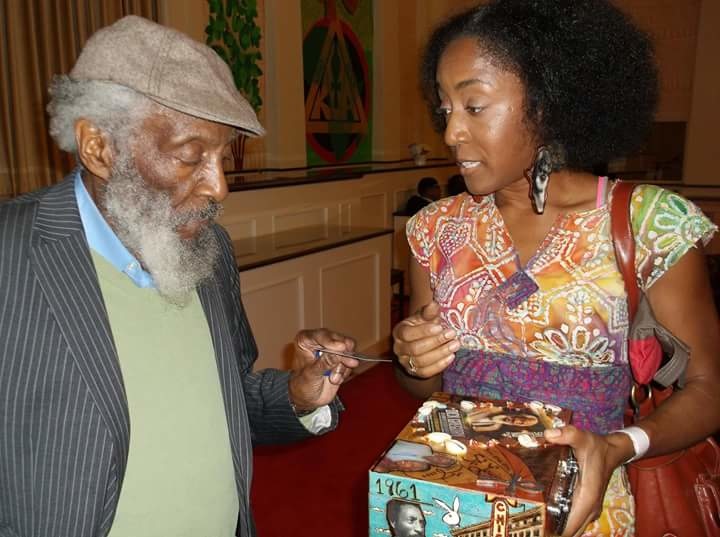 LaVita presenting Dick Gregory with custom gift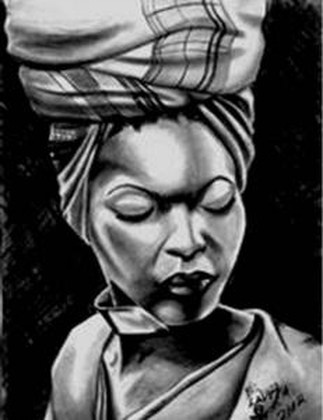 Erykah Badu, charcoal on paper by LaVita Ru 
Obituary provided by the family.

LaVita Ru short for LaVita Monique Russell was born on January 11, 1978 in Chicago, IL. She was born an artist.

Melvin King (a well-known artist) gave LaVita her very first paintbrush at the age of 8. She still holds on to that brush as it guides her through many imaginative journeys in life. She was also an aspiring author. She wrote her first book titled "Spot's In Trouble" at the age of 10 years old and won the blue ribbon for the Young Authors Award.

In 2000, LaVita Ru attended Columbia College Chicago and graduated with a degree in Fine Arts and Graphic Design. She was recognized for having an intuitive niche that made the artwork she created distinctive and endearing to her clientele. For the first part of her life, she felt inclined to create large abstract paintings, portraits and murals. She enjoyed this, however it was a slow turnover and not original enough for her. She wanted to create something greater. As a single mother of two, LaVita had two determinations. One to provide for her family comfortably and two, to do what she loved as an artist. This desire gave birth to an idea to create small functional pieces people could wear, use and feature. She discovered the power of the pen. Wood burning pen that is. And this transition was a great success.

LaVita Ru always dreamed of owning her own arts and craft shop. She was currently the owner of the brick and mortar store "The Little Red One" in Houston, TX and the online Etsy shop called "The Intuitive Woodshop." She specialized in creating high quality custom wood burned and hand painted jewelry, collectibles and keepsake gifts. She also wrote fiction books, poetry and created beautiful fashions and other accessories to compliment her wood burned jewelry. There was a lot of love, patience and intricacy that went into her art. Each pieces was handmade and hand illustrated. No two pieces were alike. Her main medium was wood embellished with natural earth stones, metals, hemp rope and leather. Her art pieces and books are sprinkled around the world.

Lady LaVita Ru leaves behind two sons, Ajourni Gregory and Kwesi Ajanaku. Her Mother Darlene Russell, Godmother Cynthia Dorris, Brother Jamall Russell, Sister Josalyn Johnson, Grandmother Lena Mae Gayles, Her Aunts and Uncles Diane (Arthur) Smith, Earl (Vivian) Gayles, and Dennis (Cynthia) Gayles. Her Great Aunts Georgianna Cheers and Barbara Jean Gibson and a host of nephews, cousins, friends and Godchildren.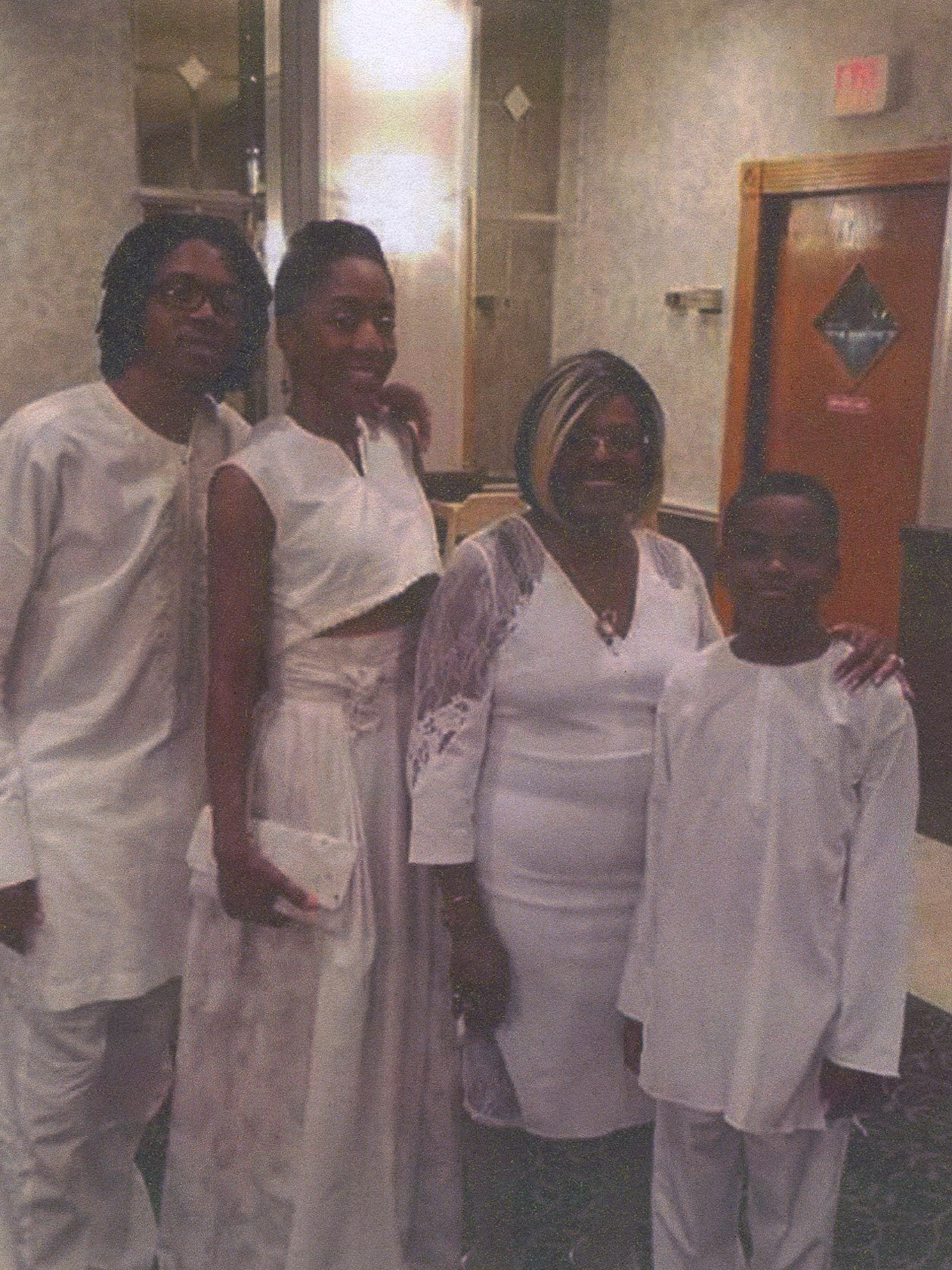 LaVita Russell with her children Ajourni and Kwesi
and mother Darlene Russell
"Live life and don't let it lug you." - LaVita Ru