MEET THE ARTIST
Archer Seaborn
Animation, 2023

The Dark Market is a spooky collection of works by Columbia artists with an emphasis on the macabre. Enjoy a sampling of spooky items on display now in store and online through November 3, 2022.

Every year ShopColumbia commissions an original illustration to promote our The Dark Market. Get to know this year's illustrator: Archer Seaborn!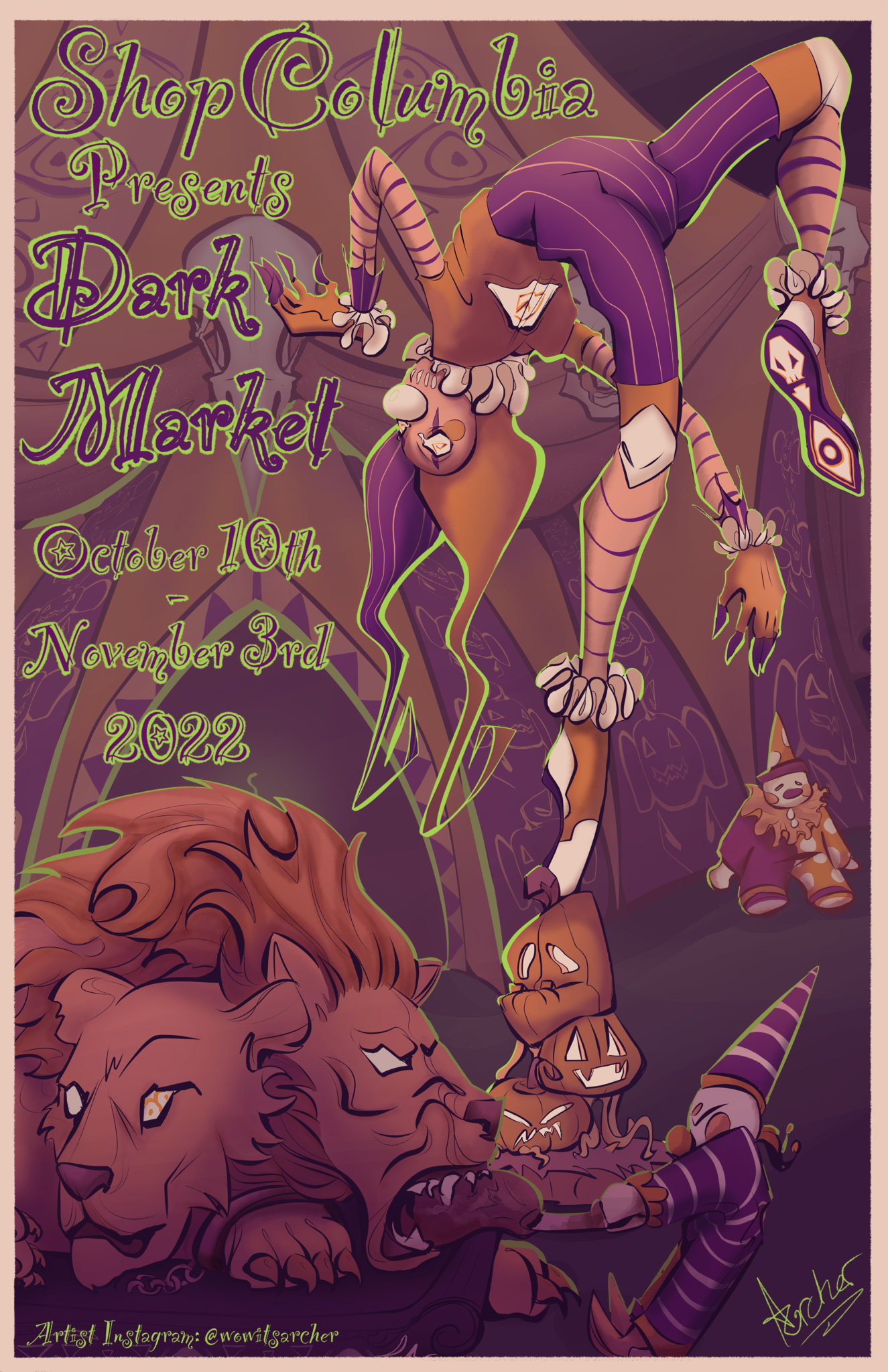 Dark Market 2022 signature illustration by Archer Seaborn

What inspired you to create this illustration?
When I was given the prompt by ShopColumbia, it was intentionally vague to let the artist take the reins in how they wanted to showcase a theme surrounding anything dark or macabre. I immediately knew I wanted to draw a dark circus. I have always had an affinity for circus imagery, as it can be anything you want it to be: scary, funny, or awe-inspiring. Clowns are the best of the best, and so incredibly fun to design and draw.

However, there is a more important inspiration to this piece, and that is this: My mom is deathly afraid of clowns. She thinks they are the scariest things on the planet earth. That meant I had to draw them for this prompt. I love my mom. My mom hates clowns. Therefore, as her son, I made a clown piece that she is required to come to Chicago to see in person.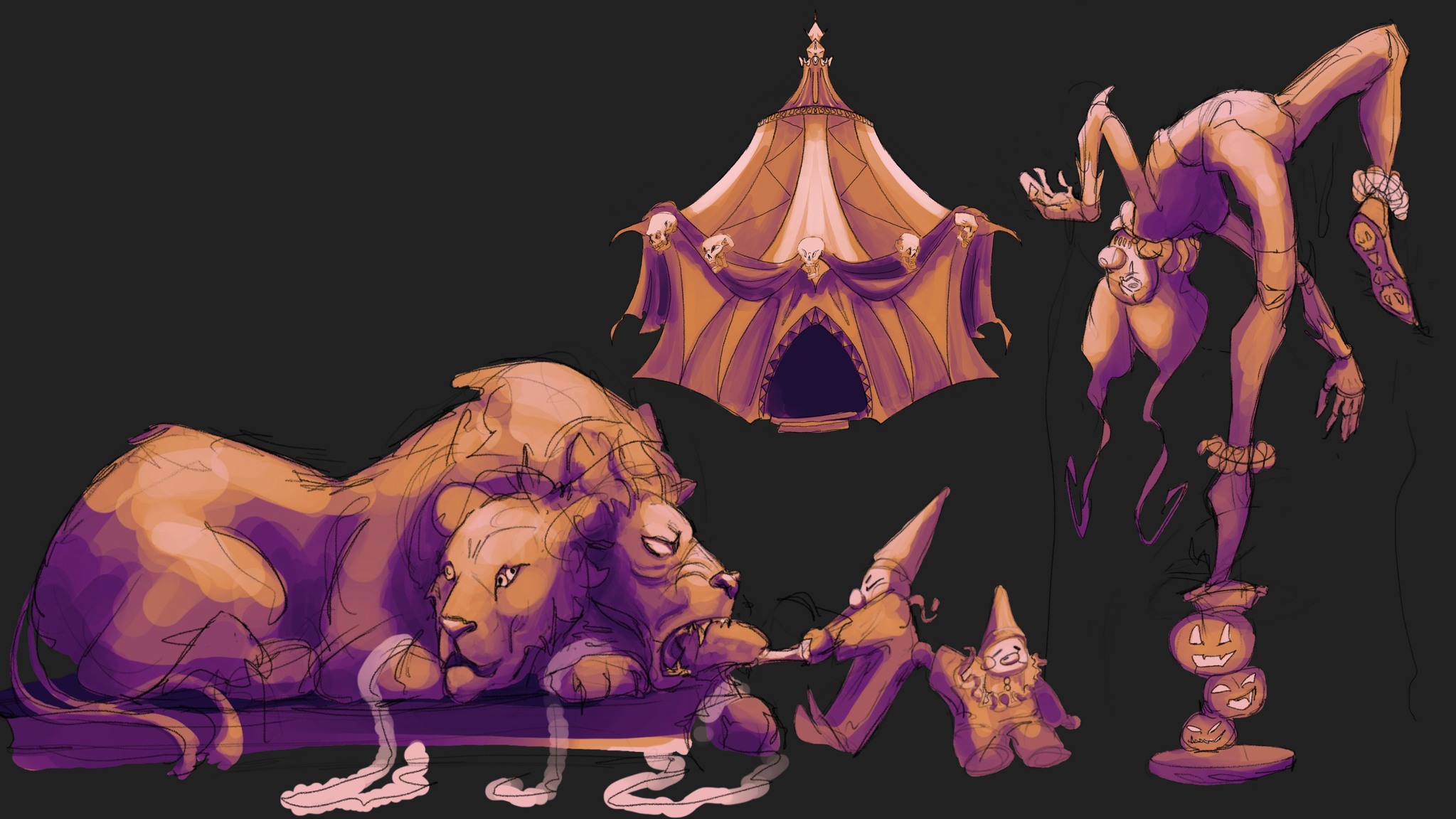 In-progress illustration by Archer Seaborn

How have you benefited from designing the illustration and selling with ShopColumbia?
Working with ShopColumbia has been wonderful for my confidence as a creator. The people who run the shop are clearly excited about art and those who make it. This project was professional but laid back in a way that helped me learn the business side of art while making something that I am more than stoked about.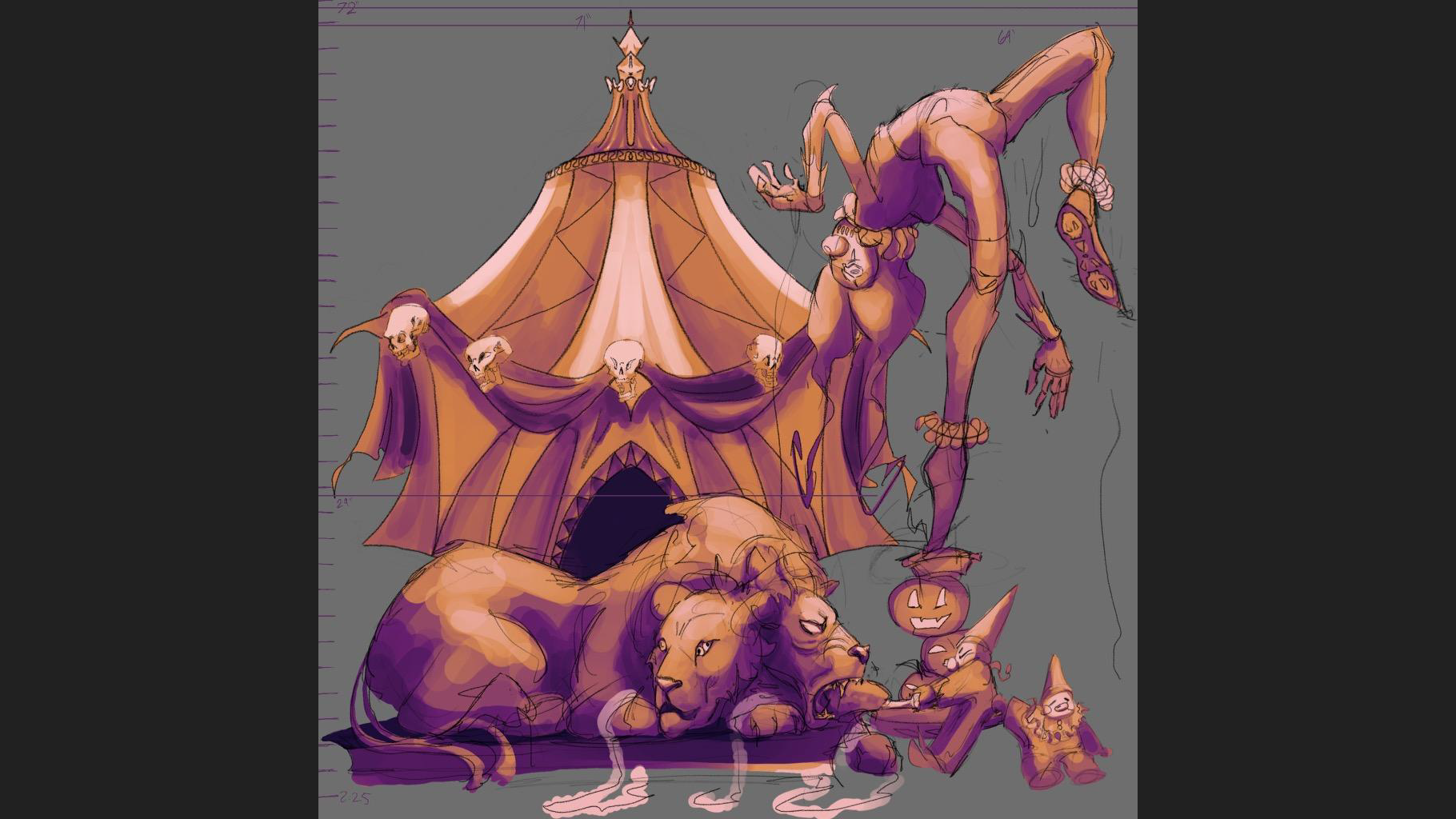 In-progress window display ideation by Archer Seaborn

What is your favorite part of Halloween?
My favorite part of Halloween is the rampant commercialization. That sounds like a joke, but I am being completely genuine. The fact that I can go to any chain grocery store starting in September, and casually purchase a plastic version of human remains, fake blood stains to stick to my windows, and a mug with a cutely rendered literal representation of death on it, is magnificent. There is nothing more endearing than seeing someone spend an hour of their life to make the outside of their home look utterly abandoned with cobwebs and fake giant spiders. Halloween seems to mean a time of year where it's okay to talk about the things that scare us most. I love it. Also, the history of Halloween is super interesting (look it up!).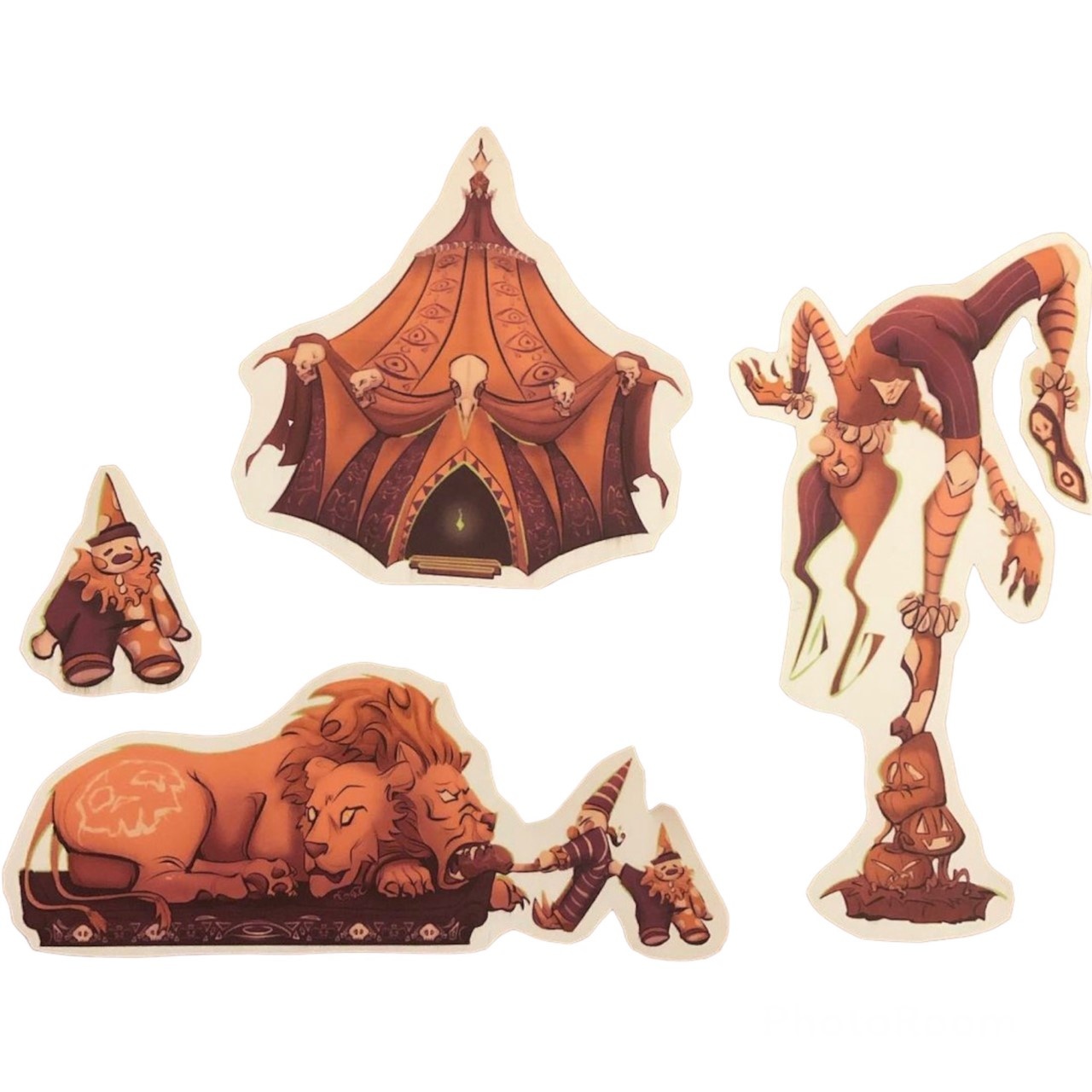 Assorted stickers by Archer Seaborn, $1.50 - 4 each

Give us an update about recent projects/artistic life events; what's next for you?
I'm hoping to finish my degree by 2023, and start applying to studios. I'm currently working on my own comic project currently titled Wilted Flower, and a few other group projects I can't mention yet. Keep updated on my Instagram:@wowitsarcher.


Artist Statement
My name is Archer Seaborn, and art is the only thing I can see myself doing in the future. The first time I saw the movie Spirited Away, I was instantly enraptured in an idolized dream of artistry. For the past four years, there has not been a single day where, in some fashion, I have not taken a pen to paper. I make art in my own time quite obsessively. This starts with a planning phase where I quickly fill a sketchbook with messy thumbnails and map out possible solutions keeping in mind tone, proportion, and viewpoint. If I need a reference, and I cannot find an in-person solution, I opt to take videos of my friends or myself. I usually post the end result on my social media, but I have taken part in a few exhibitions. I also had some of my art displayed in my community college. These experiences opened me up to sharing my art and got me very comfortable with criticism. I find a lot of my art explores my relationship with femininity as a Trans individual, that being confusing, frustrating, and almost robotic at times. However, I make a lot of my art in hopes of connecting with people. There are feelings I have that I find incredibly hard to describe, and I hope that even my silliest drawings can explain them to their fullest. I look forward to my future with art, and I hope you will join me for it!

Shop some of Archer's work HERE with more work available in-store!