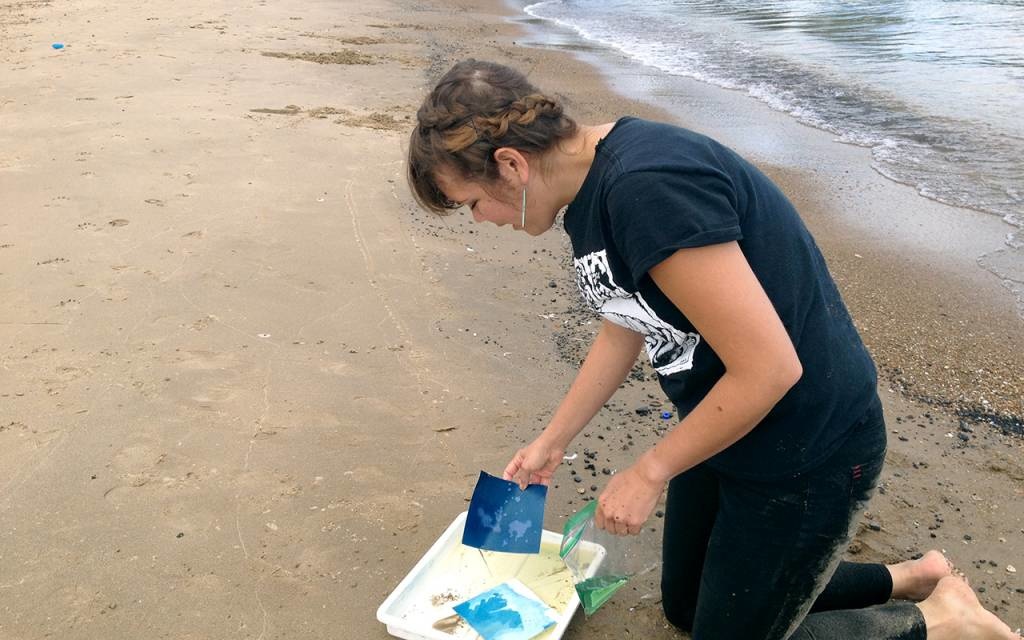 Mary Clare Butler
MFA Interdisciplinary Book and Paper Arts, 2016
maryclarebutler.com

Artist Statement 
My work examines the relationship between modes of production and the representation of ideas. Through photographic artist's books and print installations, I explore the friction between economic and natural systems. The current American economic system, a post-industrial, capitalist model, ushers in rampant consumerism and greed with far-reaching implications. I draw focus to environmental issues by examining the fallibility of language and representing the interstice between man and nature.

In environmental historian Donald Worster's seminal work, Rivers of Empire, he writes, "a more credible strategy would be to regard nature in an unending dialectic with human history, seeing the two, that is, as intertwined in an ongoing spiral of challenge-response-challenge, where neither nature nor humanity ever achieves absolute sovereign authority, but both continue to make and remake each other." It is precisely this making and remaking that forms the crux of my work. While my approach initially resembled traditional documentary photography combined with journalistic text, it has evolved to question the role of the artist in representing reality. By working in the environment and utilizing found materials including waste, light, and water, my work acts as a form of resistance: a call and response between the artist and nature to restore agency to both.
 
The Great Lakes have been viewed as passive bodies for centuries. From the fur trade and deforestation to steel refining and shipping, the water provided bountiful raw materials to support an extractive economy. Although manufacturing was exported in the name of efficiency and cost-cutting, a struggling populous surrounds the world's largest source of fresh water. This fluctuation and volatility are recorded in a collection of small cyanotypes. The light sensitive material is exposed in the lake at points along Chicago's shoreline and fixed using water extracted from the source. The chance operations, along with conscious decision making, form fluid and ghostly compositions suggesting traces of what has been or forecasts of a tenuous future. Working in collaboration with the lake itself, the series is working toward a more objective documentary representation.  

To purchase Mary Clare Butler's work please visit our web store.